The BlackSky Constellation
The history and hardware behind BlackSky's Pathfinder and Global satellites.
BlackSky Global LLC
BlackSky Global LLC is a commercial Earth observation service based out of Seattle, Washington. Founded in 2013 and a wholly-owned subsidiary of parent company Spaceflight Industries, BlackSky provides geospatial intelligence-as-a-service by synthesizing satellite imagery and real-time data with a variety of analytics tools.
BlackSky is building a new constellation of 60+ satellites for real-time Earth observation capabilities through their Pathfinder and Global satellite platforms.
Pathfinder
BlackSky developed the Pathfinder series of satellites as a technology demonstration platform to develop the capabilities needed to support commercial satellite imaging, including "the ability to task, collect, exploit and distribute images for a customer quickly, efficiently and affordably". Two demonstration satellites, Pathfinder-1 and Pathfinder-2 (originally named Scout 1 and Scout 2), were built, but only Pathfinder-1 has been launched to date.
Pathfinder-1
BlackSky's first generation (Block 1) satellite, Pathfinder-1, was launched in September 2016 onboard a Polar Satellite Launch Vehicle (PSLV) by the Indian Space Research Organization (ISRO).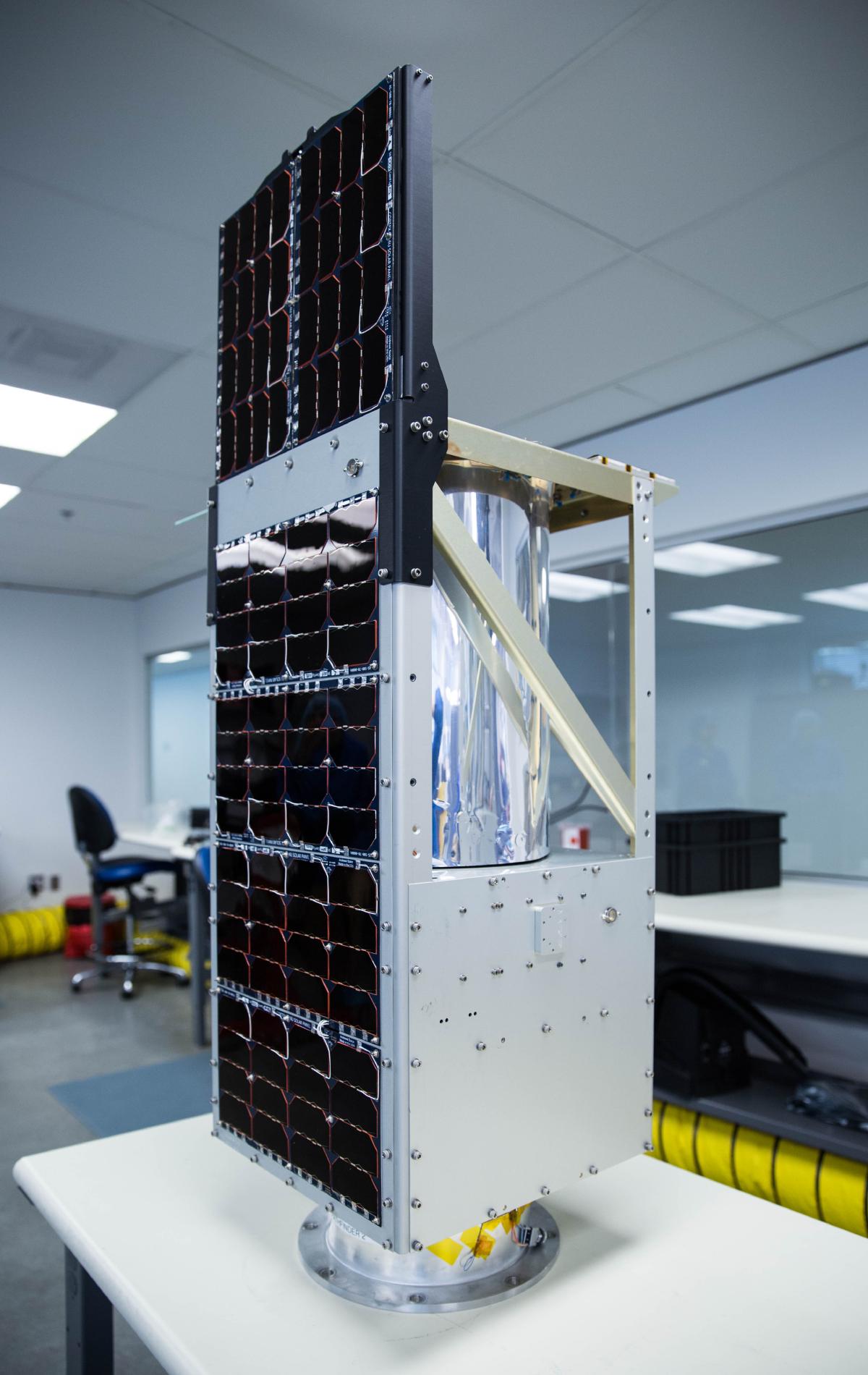 Source
Pathfinder-1 is a 50 kg imaging satellite that can provide ~1-meter resolution imagery from an altitude of 500 km. Based on the Sentry-4000 satellite bus developed by its parent company, the Pathfinder-1 satellite is similar to the SCOUT spacecraft that the company also sells externally.
Source
Little technical specification on these spacecraft is publicly available, although in a 2015 keynote to the International Symposium for Personal and Commercial Spaceflight (ISPCS), Spaceflight Industries CTO Peter Wegner provided slides with detailed imagery of the SENTRY-4000 bus and SCOUT satellite.
Source
From the information available, it appears that the Pathfinder-1 satellite uses a warm gas butane propulsion system. Additionally, its primary payload is an imaging system originally built by the global defense company Elexis Inc (as seen on the SCOUT satellite imaging payload in the image above).
Imaging Payload, A History
In mid-2014, Exelis Inc was expanding into small satellite imaging systems after a long track record of building imaging systems for large satellites, like DigitalGlobe's WorldView constellation, the Advanced Baseline Imager (ABI) for NOAA's platform of GOES-R weather satellites, and the NRO's spy satellites. But in early 2015, Exelis Inc was acquired by the Harris Corporation, and it appears that the small satellite imaging systems developed by Exelis have been rebranded as Harris SpaceView imaging payloads.
Source
One of these imaging payloads (the SpaceView 24) is a small, 10 kg imaging system with a 24 cm aperture capable of 0.9 m to 1.1 m imaging resolution (GSD at 500 km).
Source
BlackSky confirmed the use of the Harris SpaceView 24 imaging telescope on the Pathfinder-1 satellite in a 2016 press release sharing its first images.

Source
According to a September 2017 interview with Spaceflight CEO Jason Andrews, the Pathfinder-1 satellite has been retired although it is still being used for experiments.
Pathfinder-2
BlackSky had intended to launch a second Block 1 satellite, Pathfinder-2, as part of its technology demonstration efforts. In the 2017 interview mentioned above, it was announced that the Pathfinder-2 satellite was completed and had been ready to fly, but would not be launched. In part due to launch delays with the SHERPA mission, and as the Pathfinder-1 had apparently accomplished its technology demonstration goals, Spaceflight decided not to launch the completed satellite to save the $2 million launch cost.
Global
The Global spacecraft is BlackSky's next generation (Block 2) imaging spacecraft, and the platform on which BlackSky plans to build its fully operational 60-satellite constellation.
Source
The first satellite, Global-1, was completed in March 2018 and is expected to launch later in 2018, with three more satellites to follow within a year. An additional 20 satellites are expected to be completed and launched by 2020, and used to generate revenue to complete the rest of the 60-satellite constellaton.
BlackSky also announced in March 2018 that they had secured a Series C round of funding for $150 million to fund the development of the next 20 Global satellites. A joint venture between Spaceflight Industries and Thales Alenia, LeoStella LLC, will be formed nearby in Seattle to build the Global satellites.
Upgrade Design
The Global platform of satellites appears to be similar in design to the Pathfinder satellite, apparently built on the same SENTRY-4000 bus and likely using the same Harris SpaceView imaging system, but with "improved image quality, geolocation accuracy, and on-orbit lifetime".
One main difference between the platforms appears to be in the propulsion system. In April 2018, BlackSky announced a deal with the asteroid-mining company, Deep Space Industries (DSI), for a block of 20 water-based Comet thrusters.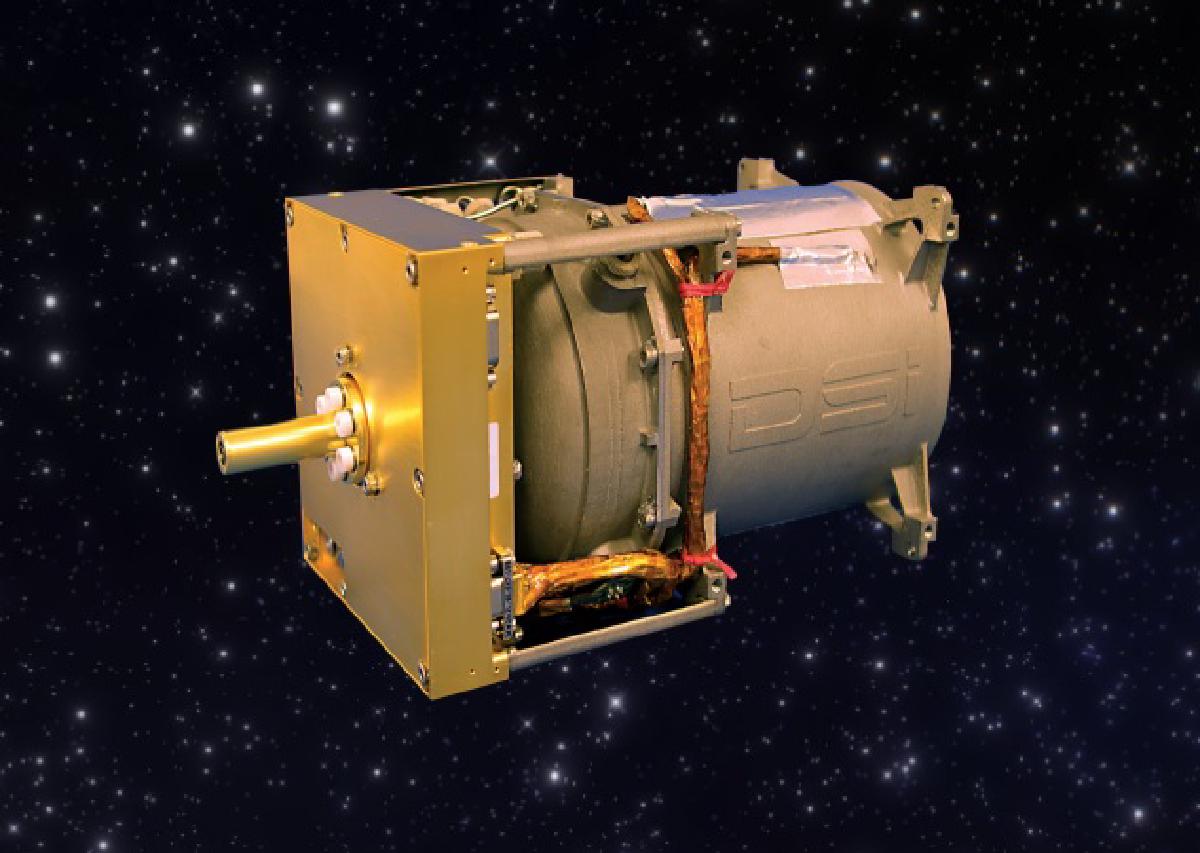 Source
Based on the number of units ordered, it's likely that the first four Global satellites (including the completed Global-1) will retain the warm butane propulsion system of the Pathfinder satellite, with the next block of 20 satellites switching to the Comet water-thruster.
Ground Stations
Prior to its Pathfinder technology demonstration, Spaceflight Industries had been building up the ground station infrastructure needed to communicate with its satellites as part of its Spaceflight Networks service offering. This service provides shared ground station usage to other satellite operators to allow telemetry, communication and data downloading from satellites.
As shown in 2015 FCC filings, Spaceflight Industries operates up to six different ground stations, with five stations in the US and one in New Zealand.
Source
And according to a 2016 press release, they plan to build ground stations in up to seventeen locations by 2018, although it is unknown how many of those locations have been built at this time.
As BlackSky continues to build up to its 60-satellite constellation, a larger ground station support infrastructure will be needed to manage its satellite operations. However, according to the same 2016 press release, Spaceflight Industries has also indicated that "customers who purchase compatible radios and Spaceflight Networks data plans will be able to obtain web-based access to their imagery within a few minutes of its capture", implying that customers will have tasking authority over the satellites and imagery downloading capabilities from remote locations.
Future of the BlackSky Global Constellation
BlackSky, and its parent company Spaceflight Industries, have a unique position in the growing market of Low Earth Orbit (LEO) imaging companies. Like its competitors Planet and Spire, BlackSky recognizes the growing value of providing satellite imagery and the analytics on top of it. But unlike its competitors, it also offers on-demand multi-spectral imagery products from other satellite operators via BlackSky Spectra, a service it launched in 2017. Another service, BlackSky Events, provides real-time data fusion analysis of satellite imagery with news and social media.
With the $150 million Series C funding, the new joint venture satellite manufacturing company and the launch scheduling capabilities of its sister company, BlackSky is well positioned to achieve its goal of launching its 60-satellite constellation. This additional imaging capability will improve BlackSky's growing geospatial intelligence offerings and make it a growing contender in the Earth observation and analysis market.