The Sundries of NYC
An ongoing list of interesting things that I've found in New York City, periodically updated.
Formula E in Redhook
I realized last minute that Formula E, the electric motorsport series, was having their end of season races in Red Hook, Brooklyn soon after I got here in July 2018. Although tickets were sold out, I was saved by a random act of kindness from a Redditor who gifted me his extra two tickets.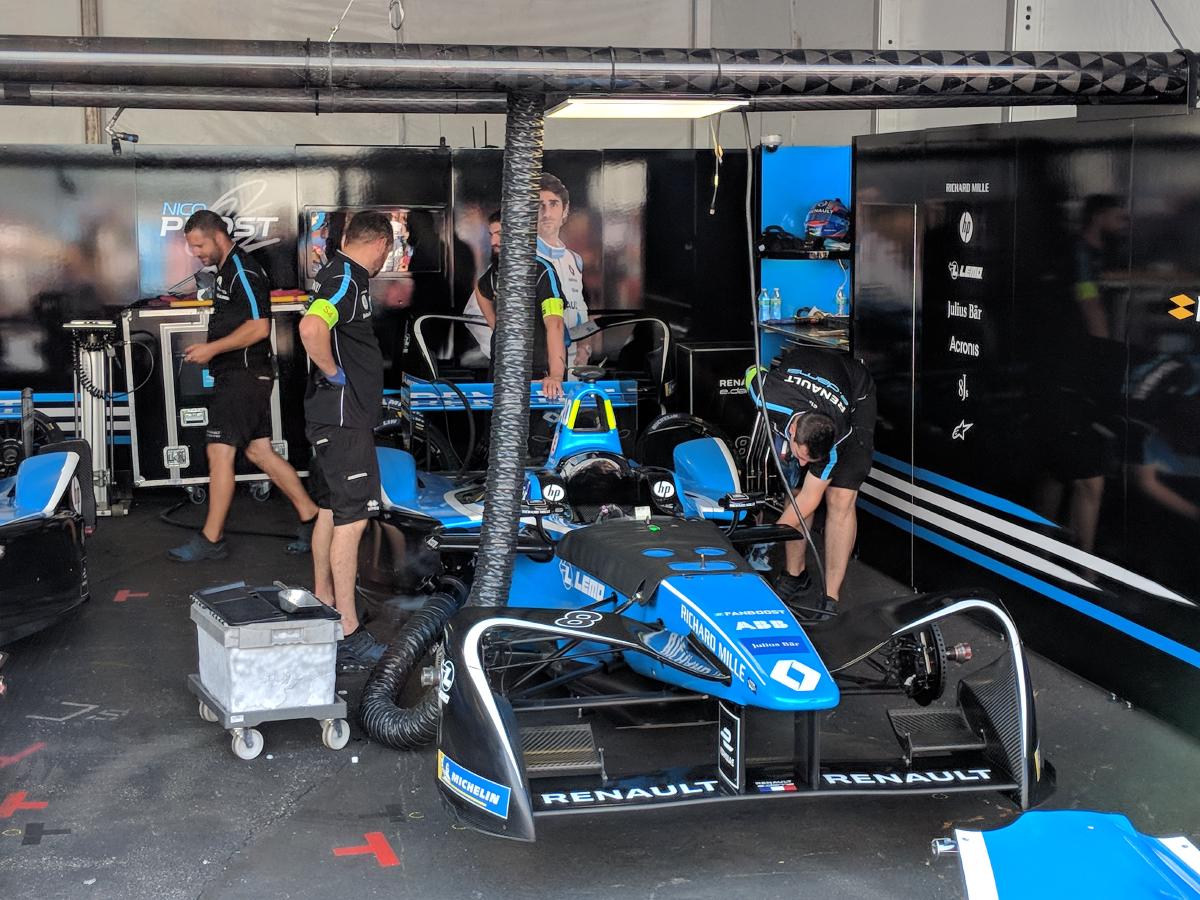 I geeked out during the garage tour before the race looking at all of the cars up close, later seeing one of them in a nasty crash right in front of us towards the end of the race.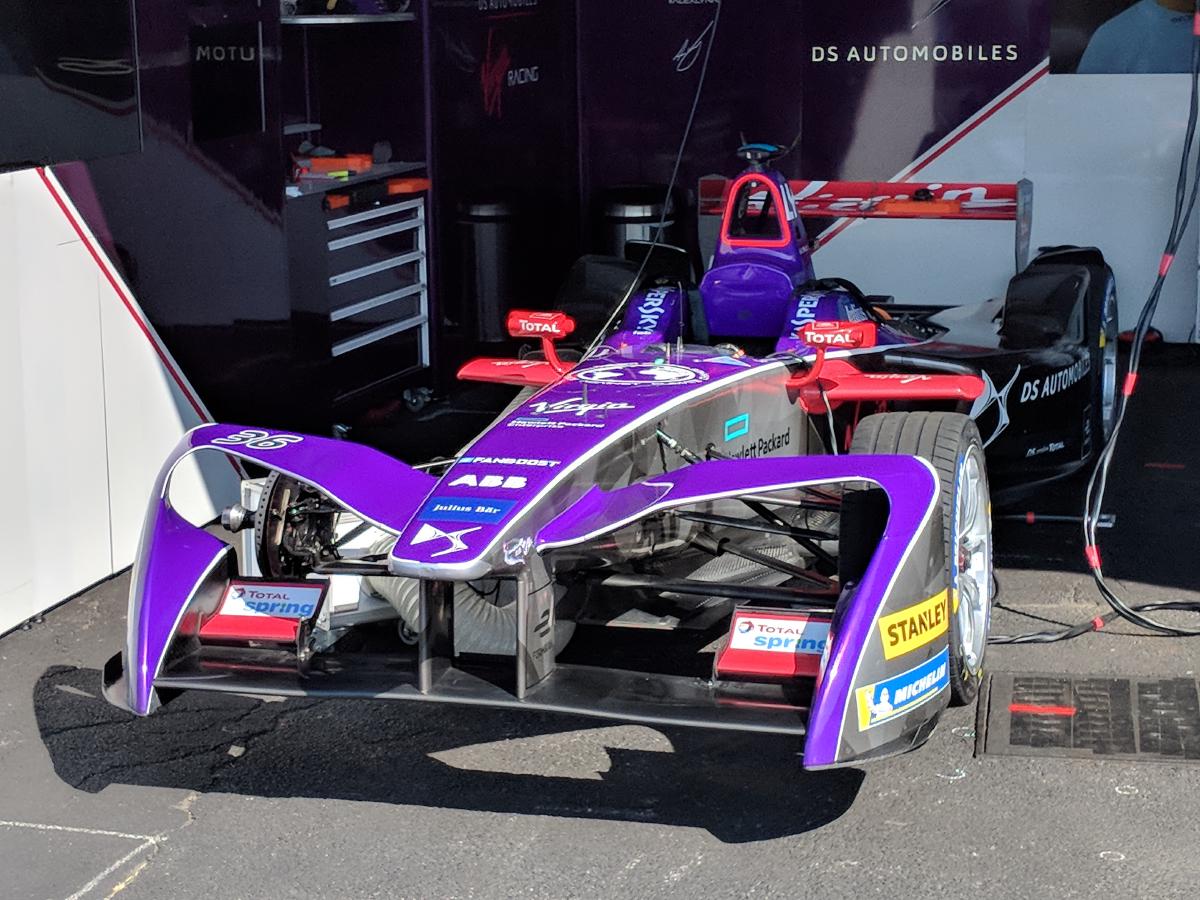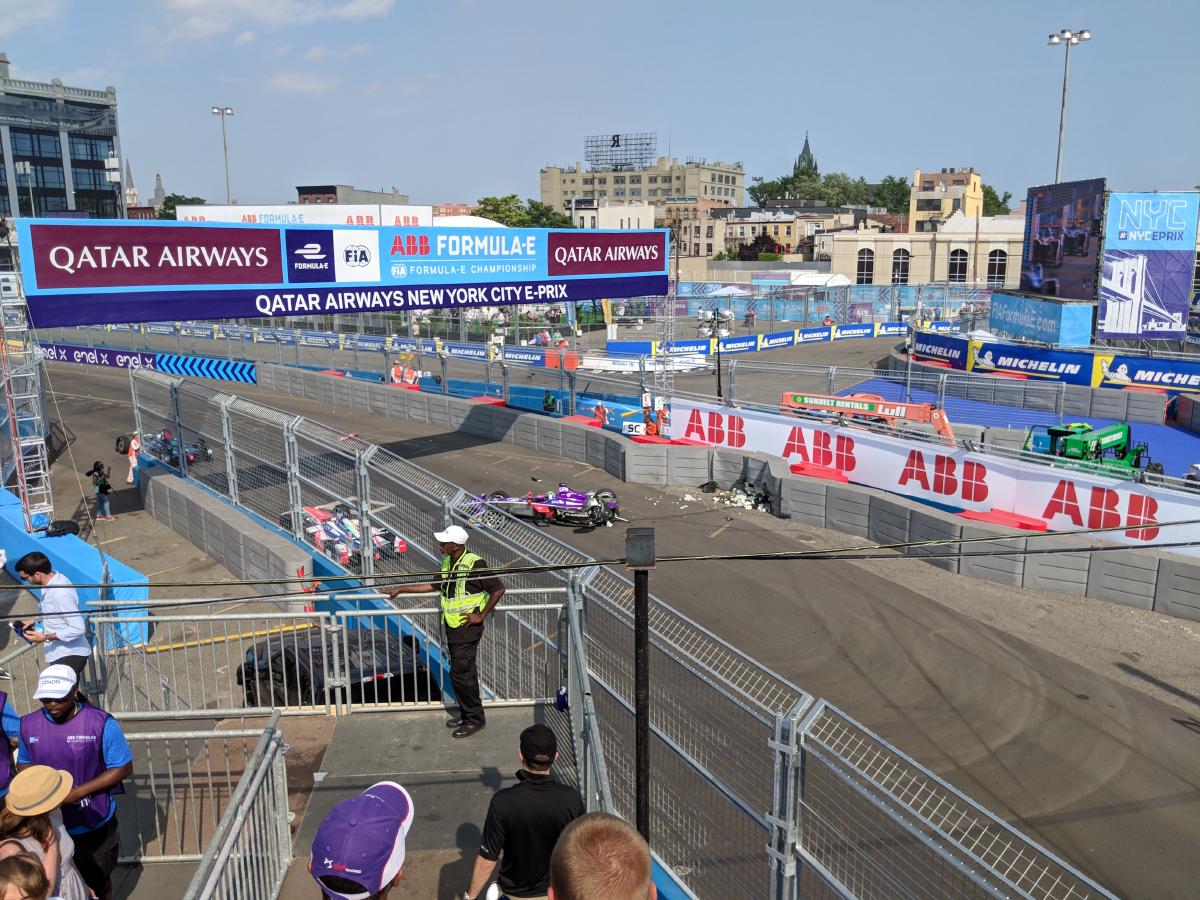 If you get a chance, I highly recommend checking out a Formula E race though! They're almost all city tracks which makes them very up close and accessible, which I was fortunate enough to first experience while watching a Formula 1 qualifying in Monaco. And while the sound of a Formula 1 is a different beast, hearing the electric hum of a Formula E car up close sounds like the future.
HMS Queen Elizabeth
Britain's newest and largest warship, the HMS Queen Elizabeth, visited New York in the fall of 2018. After a clumsy attempt at invading Florida, the warship made her way up the Eastern Seaboard of the United States for a reconciliatory photo op in the New York harbor.
I took the Staten Island Ferry there and back from the southern tip of Manhattan to get the best viewpoint, and what a sight she was out in the water. That's a good looking ship.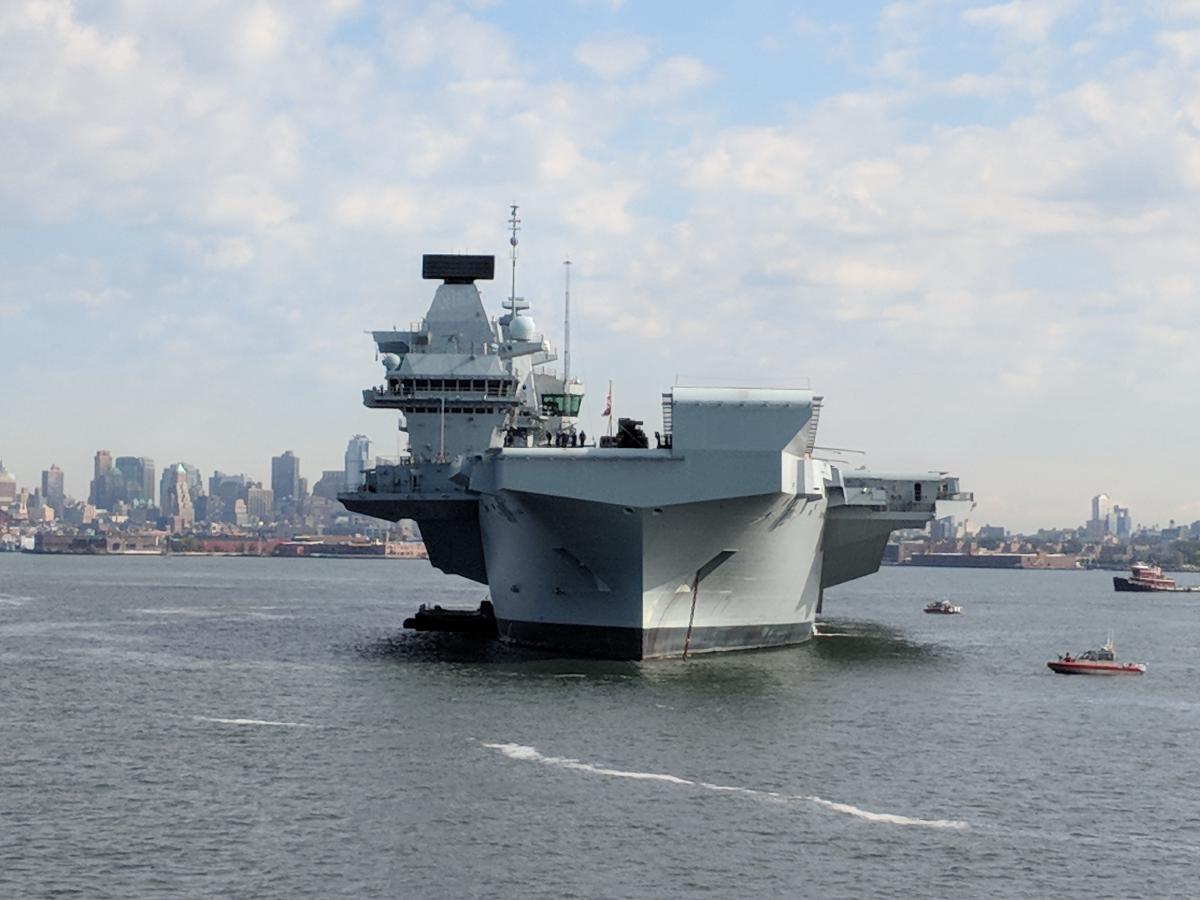 The Tesla Trifecta
The man, the myth, the legend: Nikola Tesla. While living temporarily in Midtown, I realized I was close to a trifecta of Tesla memorials, courtesy of an Atlas Obscura article I came across. One day I set out on a mini Tesla pilgrimage, eventually realizing it was his actual birthday!
First, I stopped by Bryant Park where the city named a street corner after him, in memory of his fondness for sitting at the park feeding pigeons.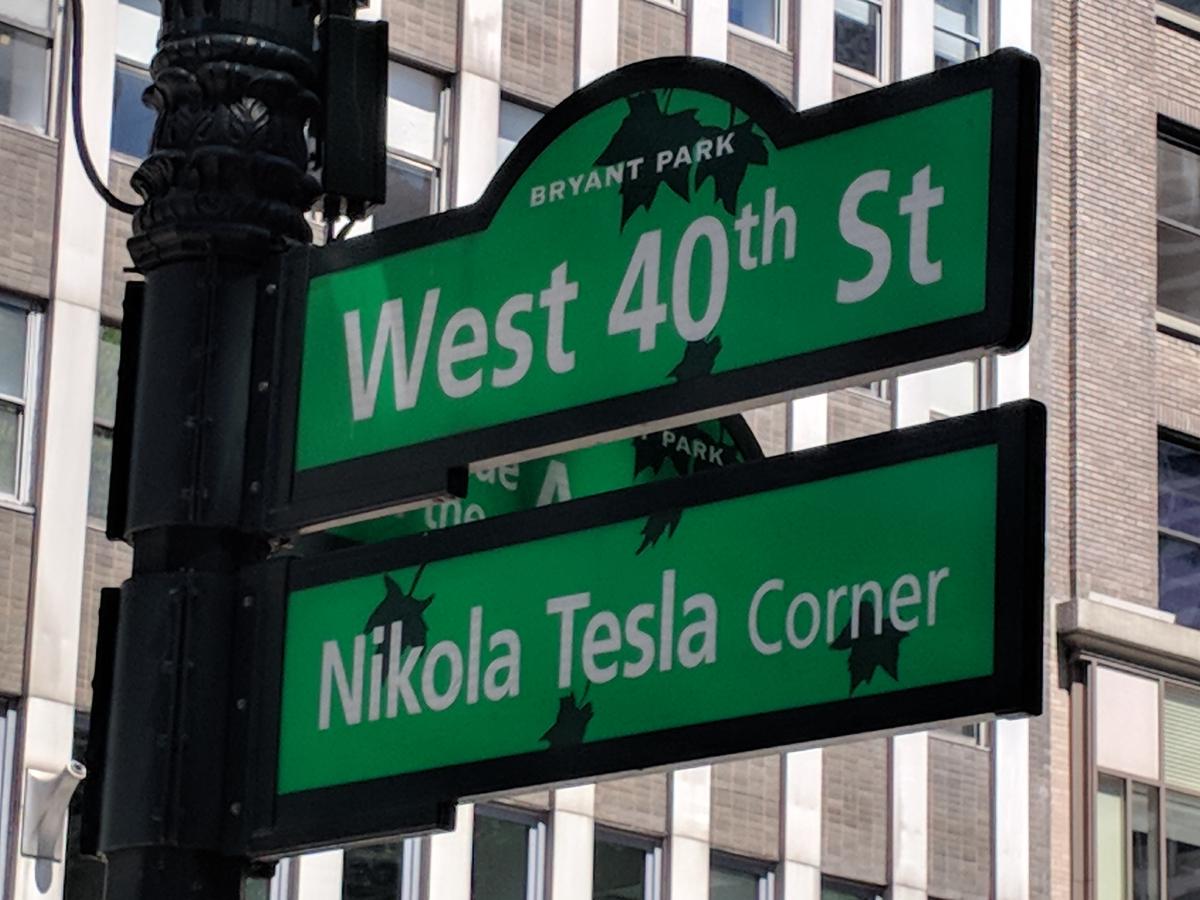 Next up was a plaque commemorating his long time residence at the current Radio Wave Building at 49 W 27th St.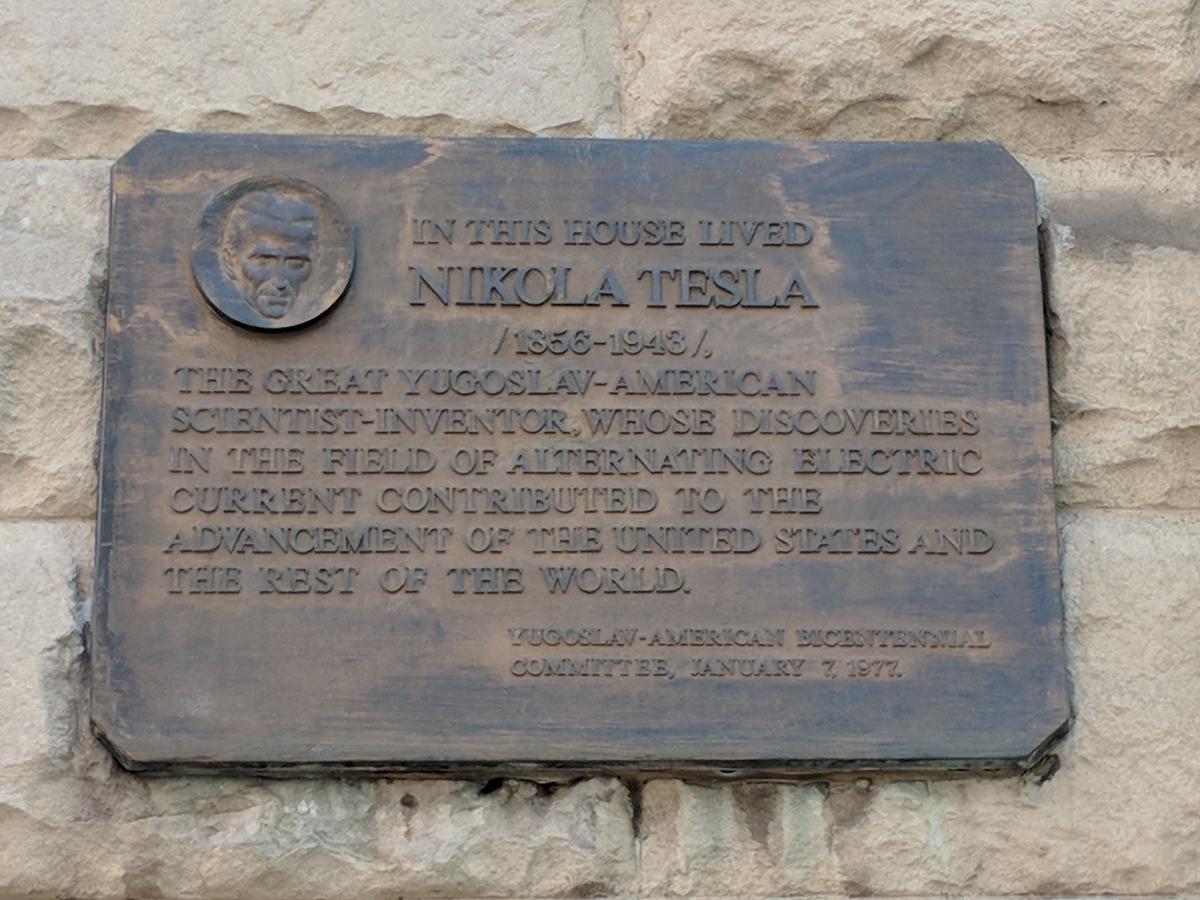 And last, I swung by a plaque outside of The New Yorker Hotel where Tesla died in 1943.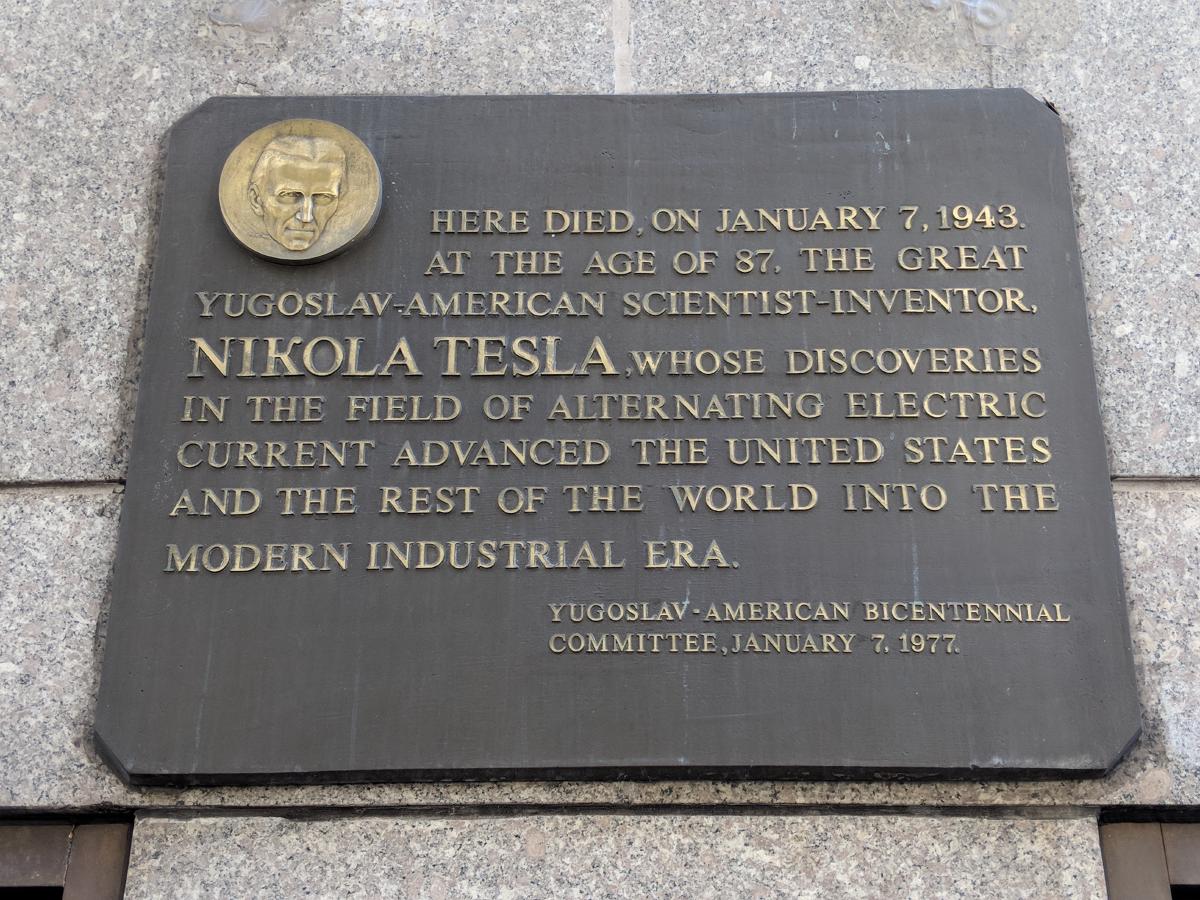 The short walking tour of these memorials gives you a small glimpse at what Tesla's life in New York would have been like, and was a wonderful experience to have on his birthday. If only there was a memorial to his oscillator experiments down on Houston Street!
USPS James A. Farley Building
After reading about the fascinating history of the United States Post Office in the book "Neither Rain Nor Snow", I had to check out some of the historic post offices in New York like the James A. Farley Building. Built in 1912 and named after a former Postmaster General, it's a landmark in the city. I've walked by it a number of times without realizing it was a post office, instead assuming it was part of the nearby Penn Station.
The first thing you notice is the large inscription above the entrance with the famous words: "Neither snow nor rain nor heat nor gloom of night stays these couriers from the swift completion of their appointed rounds".

Once inside, I noticed a series of large insignias spaced out along the (incredibly high) ceilings. I later learned that each one is a seal for a different country that was a member of the Universal Postal Union, like this coat of arms of the Netherlands shown here.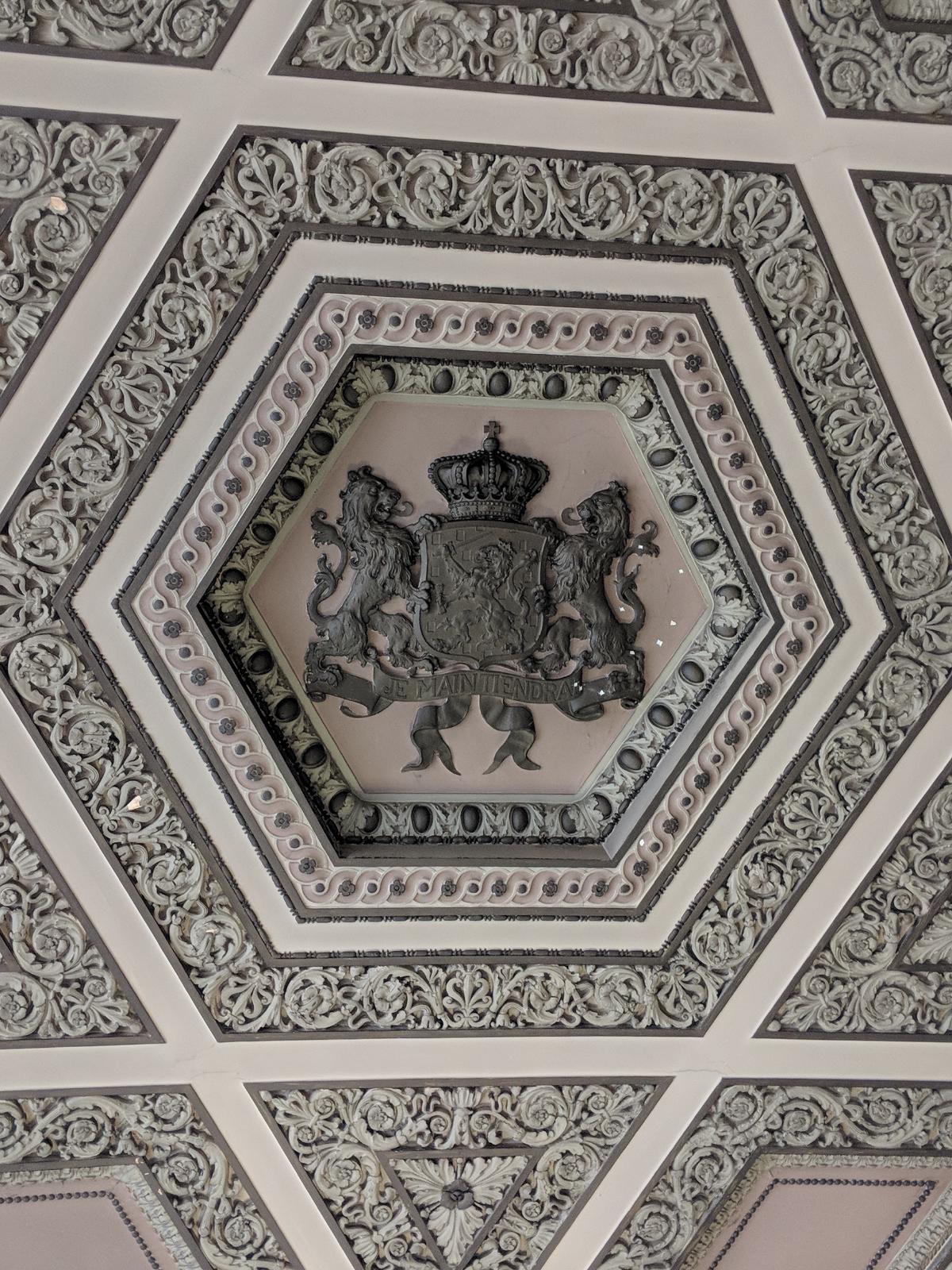 At one end of the large hall was a rotunda with some war memorial plaques from WWI (shown below) and WWII. There was even a plaque to postal workers who died in the Revolutionary War, a reminder of how long the Postal Service has been around in the United States.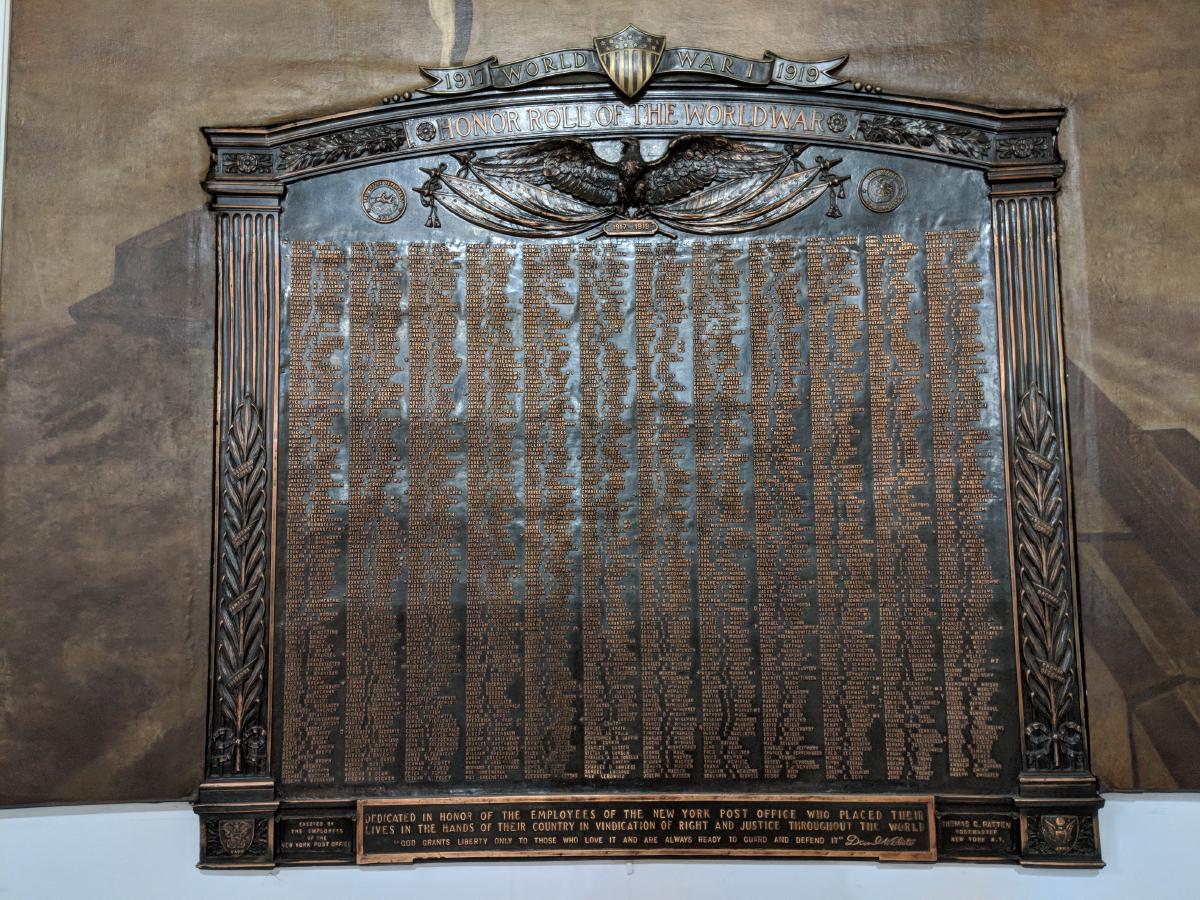 All that being said, the interior of the building was in a sad state of neglect. Chipped paint, broken wood and a general sense of something past its time. The building has been under renovations for a while now, and apparently at some point it will become a grand train hall. While it may never reach the height of postal service grandeur it once was, hopefully it will once again become an inspiring landmark in the city of New York.
New Lab
The Brooklyn Naval Yards is a historic naval shipbuilding facility that built some of the largest warships in the US Navy during its 165 years of operation, up until its decommissioning in 1966. Sitting mostly abandoned for the second half of the 20th century, it's recently been undergoing steady renovations and has become somewhat of a technology and innovations hub in Brooklyn.
New Lab is one such innovation hub, a former naval machine shop that has been beautifully redesigned and now hosts over 100 technology hardware startup companies in its cavernous space.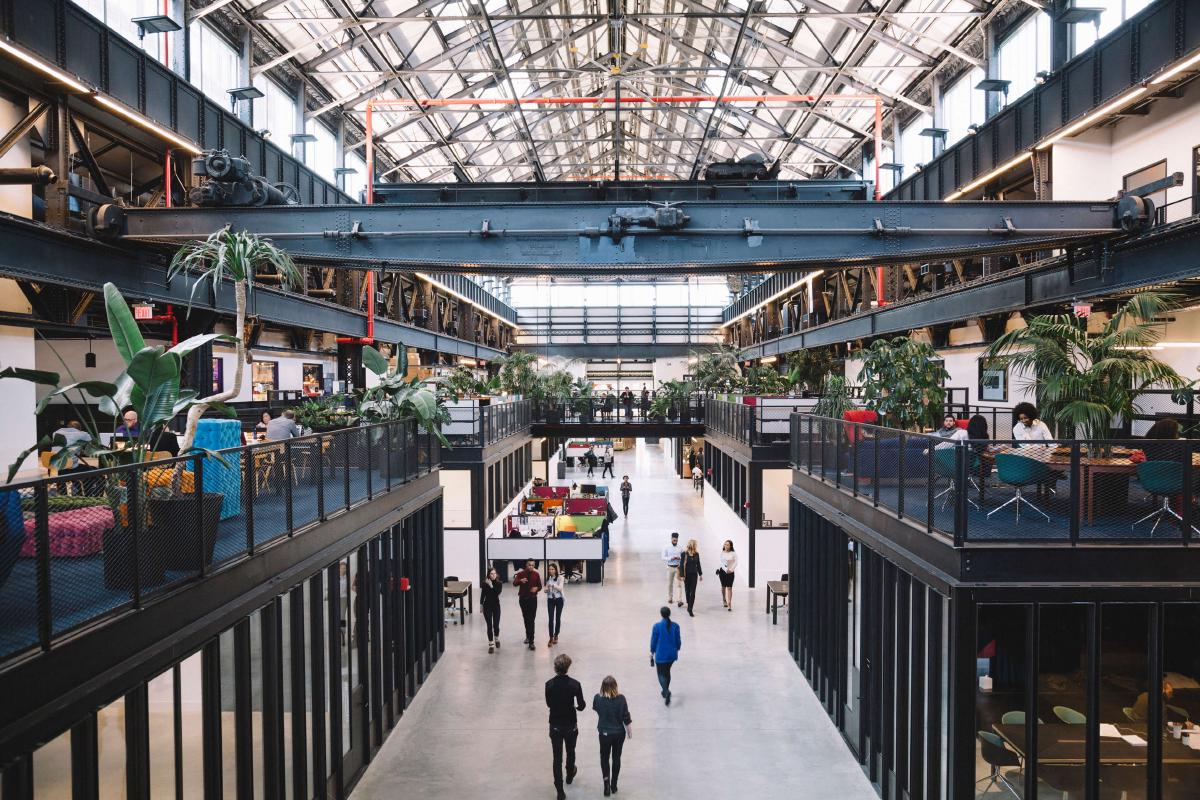 Source: New Lab
I heard about New Lab while job searching and luckily knew someone who made an introduction for me there. I ended up working out of the space for about a month as a technology consultant, giving me a great opportunity to appreciate the beauty and energy of the space.
FDNY Engine Co. 74
Living in the Upper West Side, I happened to walk by this striking fire station door on W 83rd Street one day and did a double take.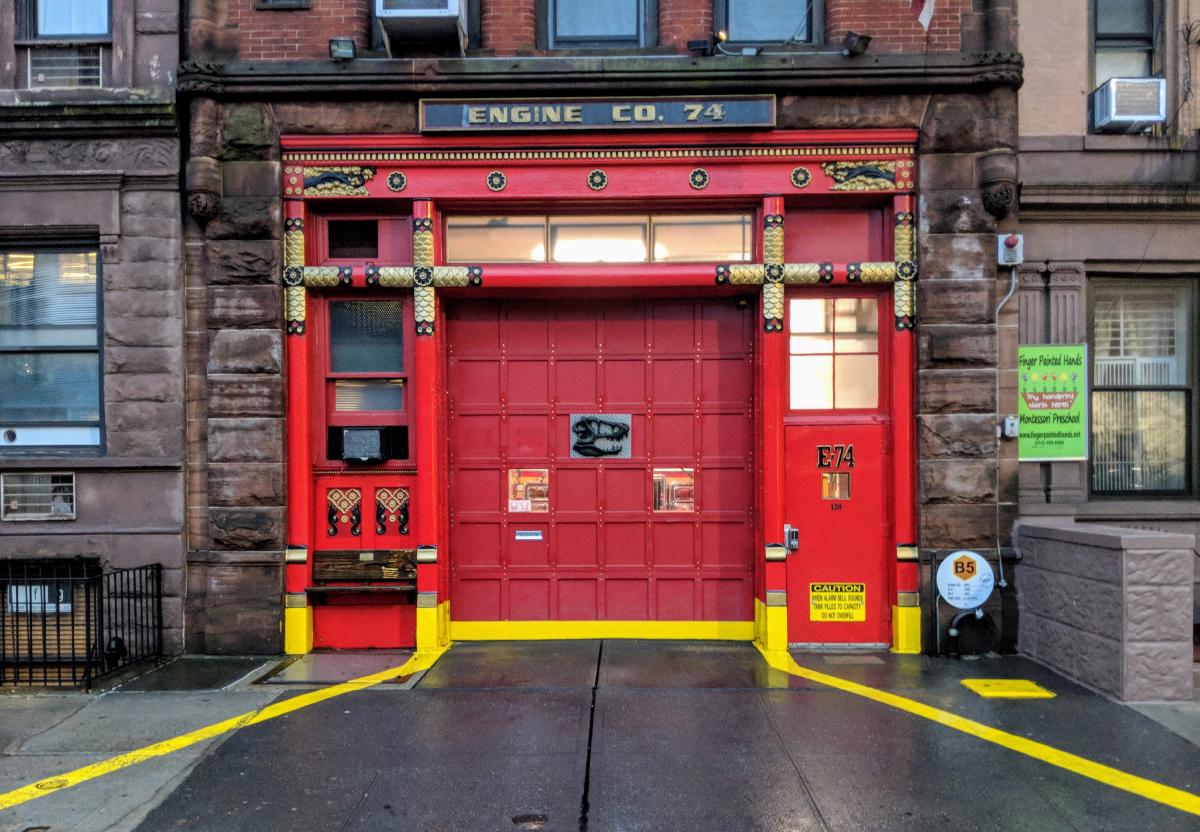 FDNY's Engine Company 74 has a hard-to-miss dinosaur skull on its station doors. This design is uniquely due to both its proximity to the American Museum of Natural History and the station's nickname of "The Lost World", harking back to its days when other firefighters couldn't find its (previously) black station door.
Titanpointe
33 Thomas Street in Tribeca is an iconic Brutalist skyscraper in downtown New York City. At twenty-nine stories tall with no windows, it's a relic of the Cold War era built to withstand an atomic blast. It's also a supposed NSA spy hub. And it's my current workplace.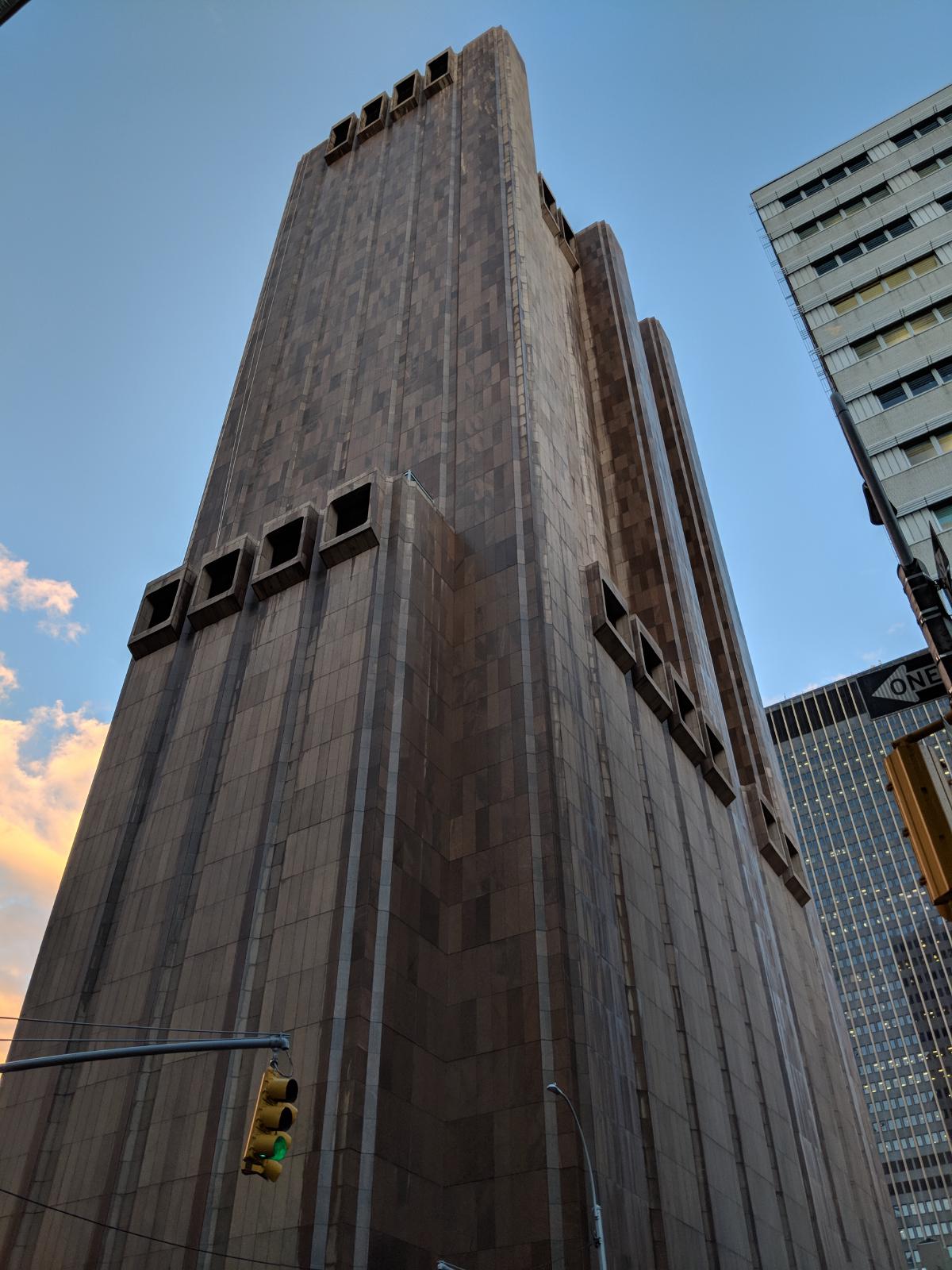 The AT&T Long Lines Building is a hidden but ominous looking gem in the downtown New York City skyline. Built in the 1970's, the building came into the public eye more recently with the publication of a 2016 Intercept article describing the building's apparent involvement with the NSA, a shadowy government organization who gave the building its codename: Titanpointe.
Needless to say, I really enjoy working there.
Sotheby's
I was visiting the West Coast for the holidays when I met someone with a huge collection of art, political buttons and typewriter ribbon tins. After mentioning my interest in collecting random space memorabilia, this person mentioned an upcoming auction of historical space exploration items at Sotheby's in New York. Realizing I only had a couple of days to check it out, I changed some plans to get back to the city in time and see some once-in-a-lifetime space artifacts.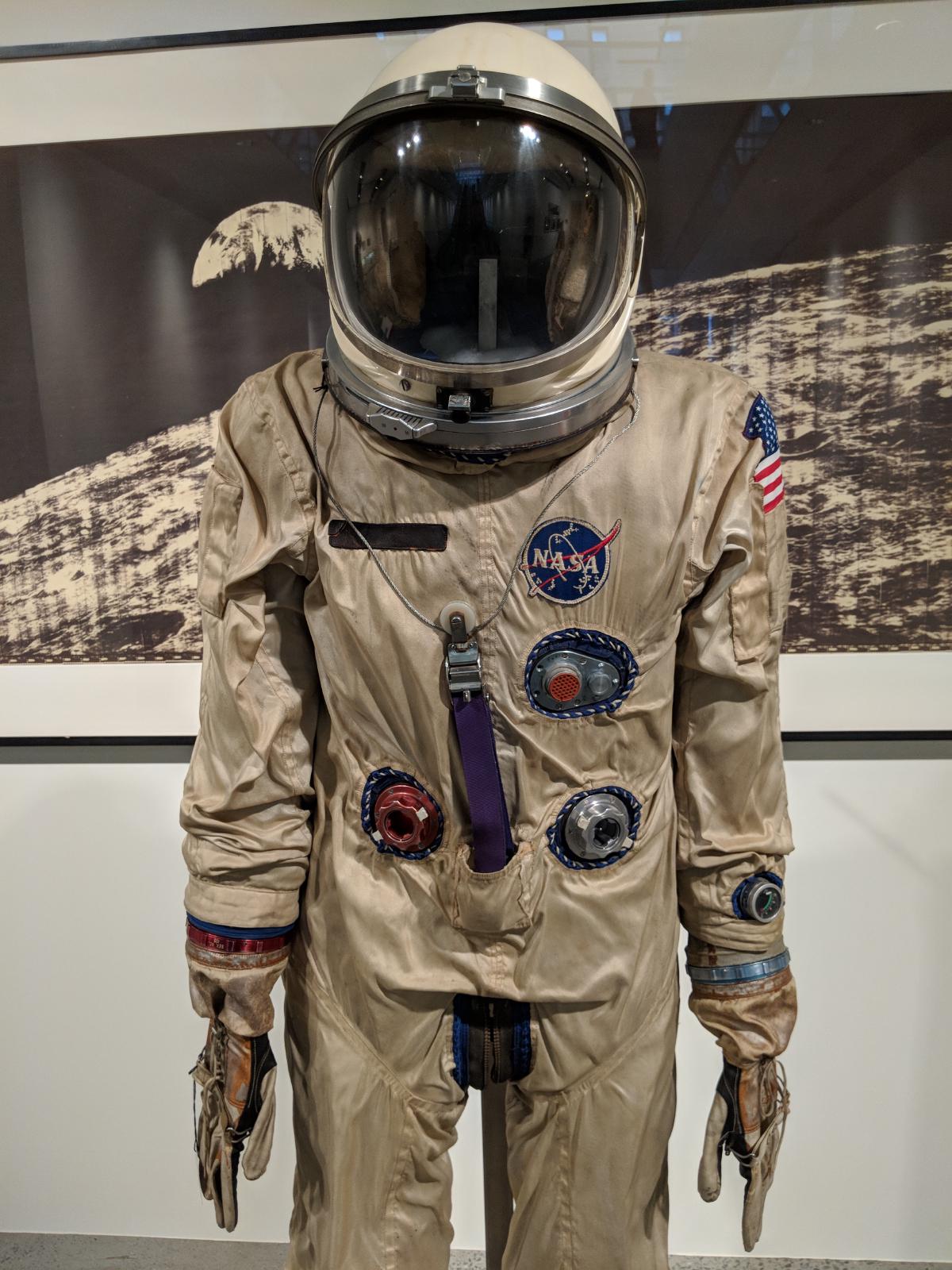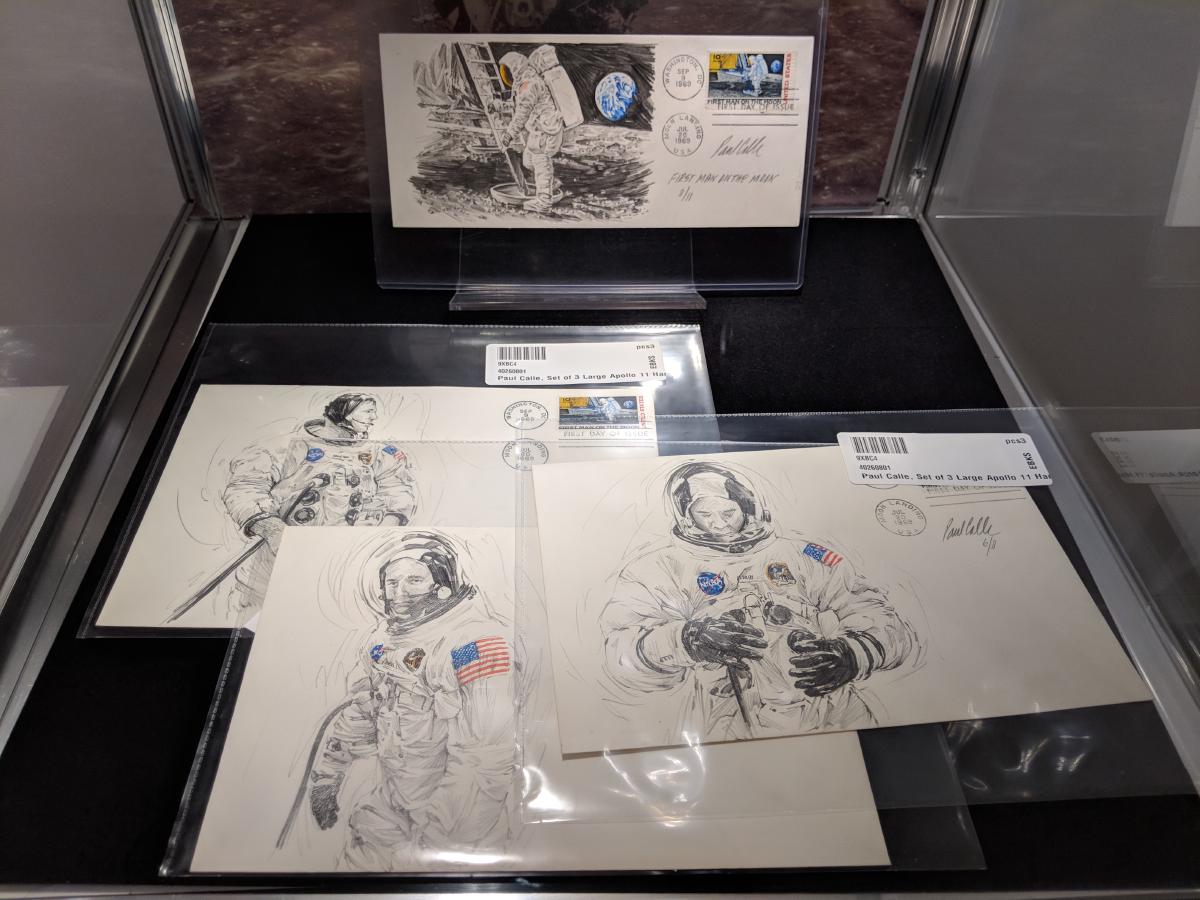 Alongside the space auction was an auction of historical science artifacts, including Richard Feynman's Nobel Prize and beautiful pieces like this planetarium below.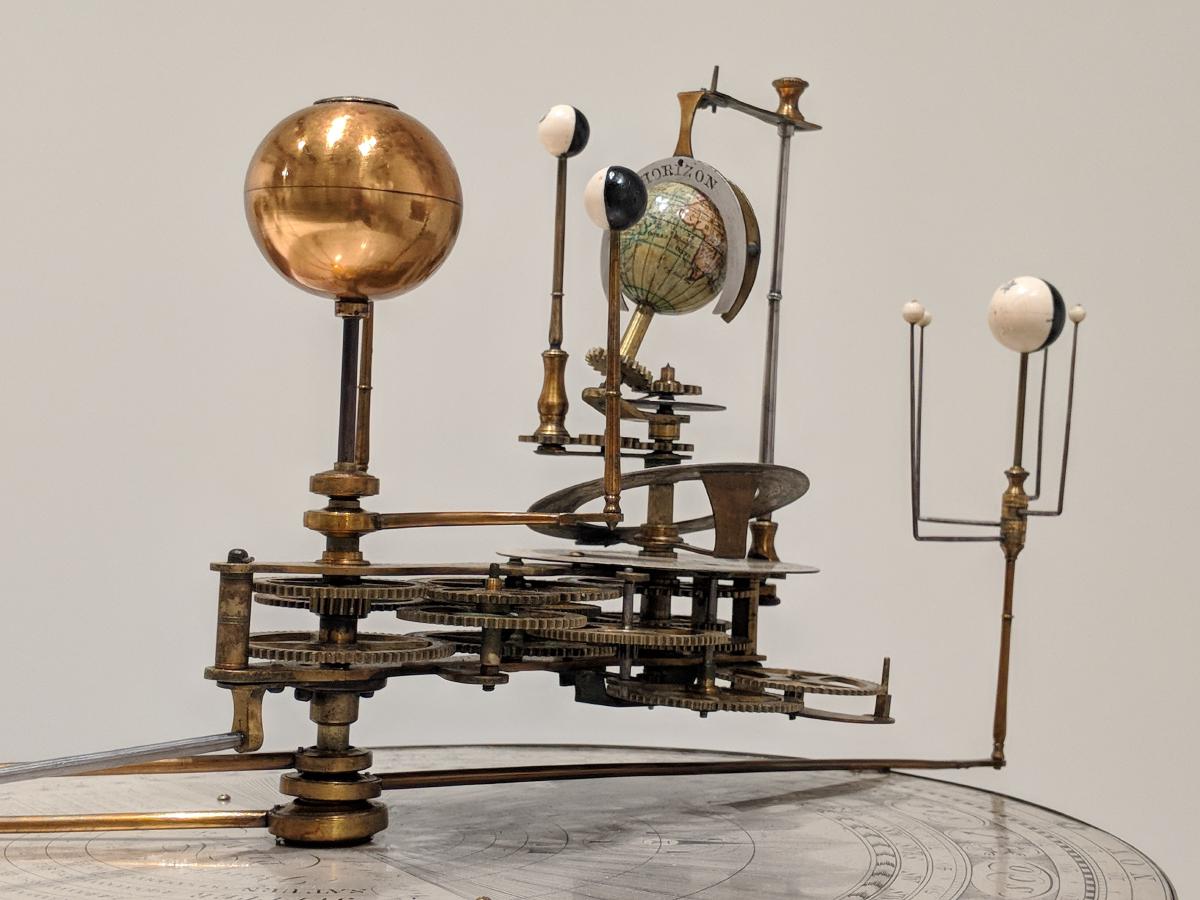 I not only toured the gallery exhibition for the space auction but even came back the following day to be at the actual auction live in person. I saw some amazing pieces of space exploration history, met some interesting space collectors and had coffee with a great view at Sotheby's top floor cafe.
Urban Waterfalls
It's not something you'd expect to find in the hustle and bustle of the city, but if you know where to look you can find some beautiful waterfalls hidden in small parks, particularly in Midtown.
Greenacre Park on E 51st St gets pretty busy during the heat of summer, but this park and its waterfall offer a cool gentle mist and enough natural noise to drown out the city. A perfect respite.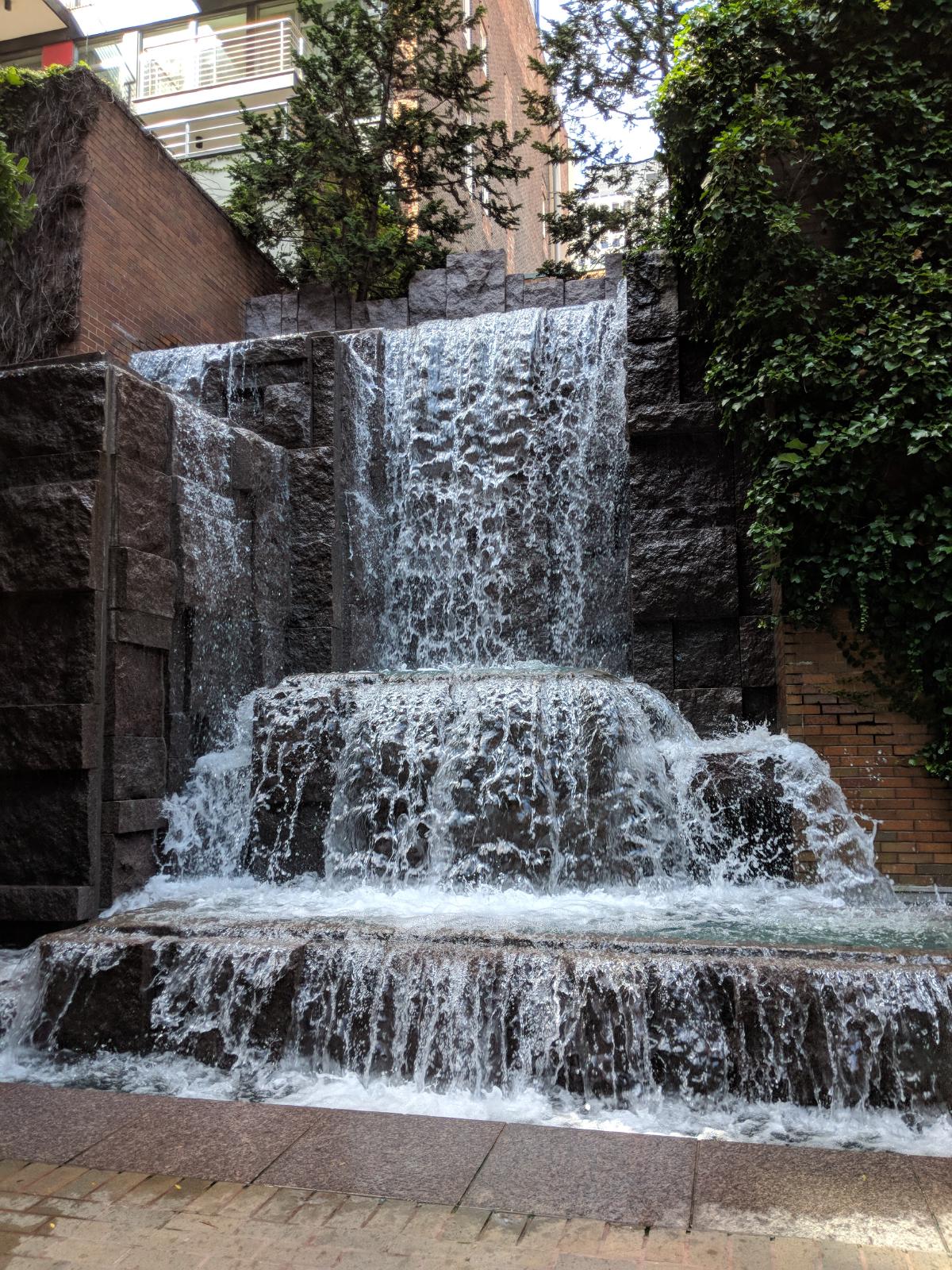 Ghostbusters
Ok, so admittedly this one isn't from my current time in New York City. I visited the city for the first time in 2013 and the highlight of my trip was an impromptu tour of iconic sites from the classic 1984 movie Ghostbusters. From the steps of the New York Public Library's Stephen A. Schwarzman Building to the courtyard at Columbia University to the Hook & Ladder Company 8 Firestation in Tribeca, visiting these sites really makes the feeling of the movie come alive. To me, it's the definitive movie about New York City.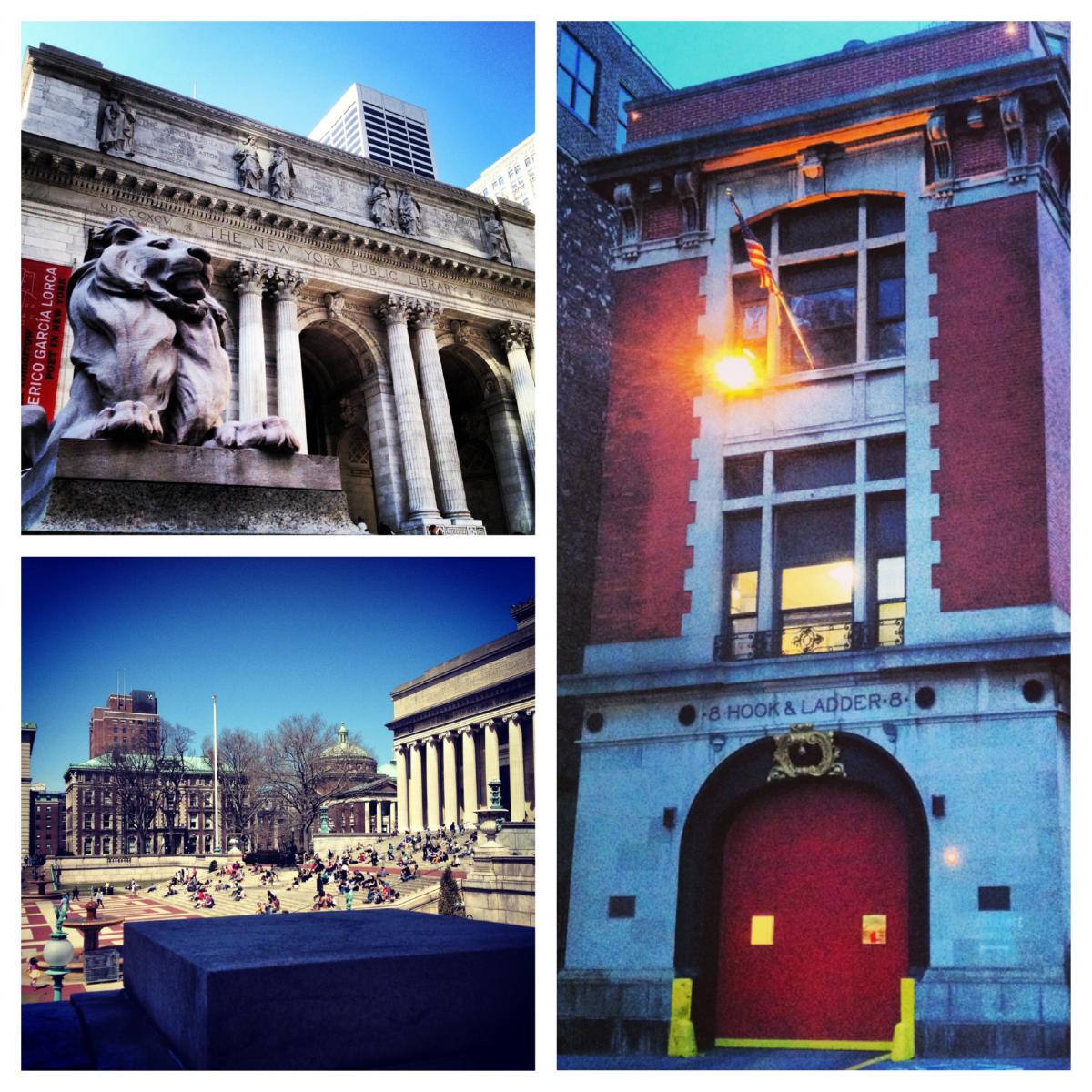 Silk Stockings in Central Park
New York was home to an Army National Guard regiment from 1806 until 1993. Originally founded as the 7th Regiment, it was also known as the Silk Stocking Regiment or the Blue Bloods because of its standing in elite society at the time. During the Civil War, the 7th Regiment spent most of its service between New York City and the Washington DC area and is memorialized by a statue on the lower west side of Central Park.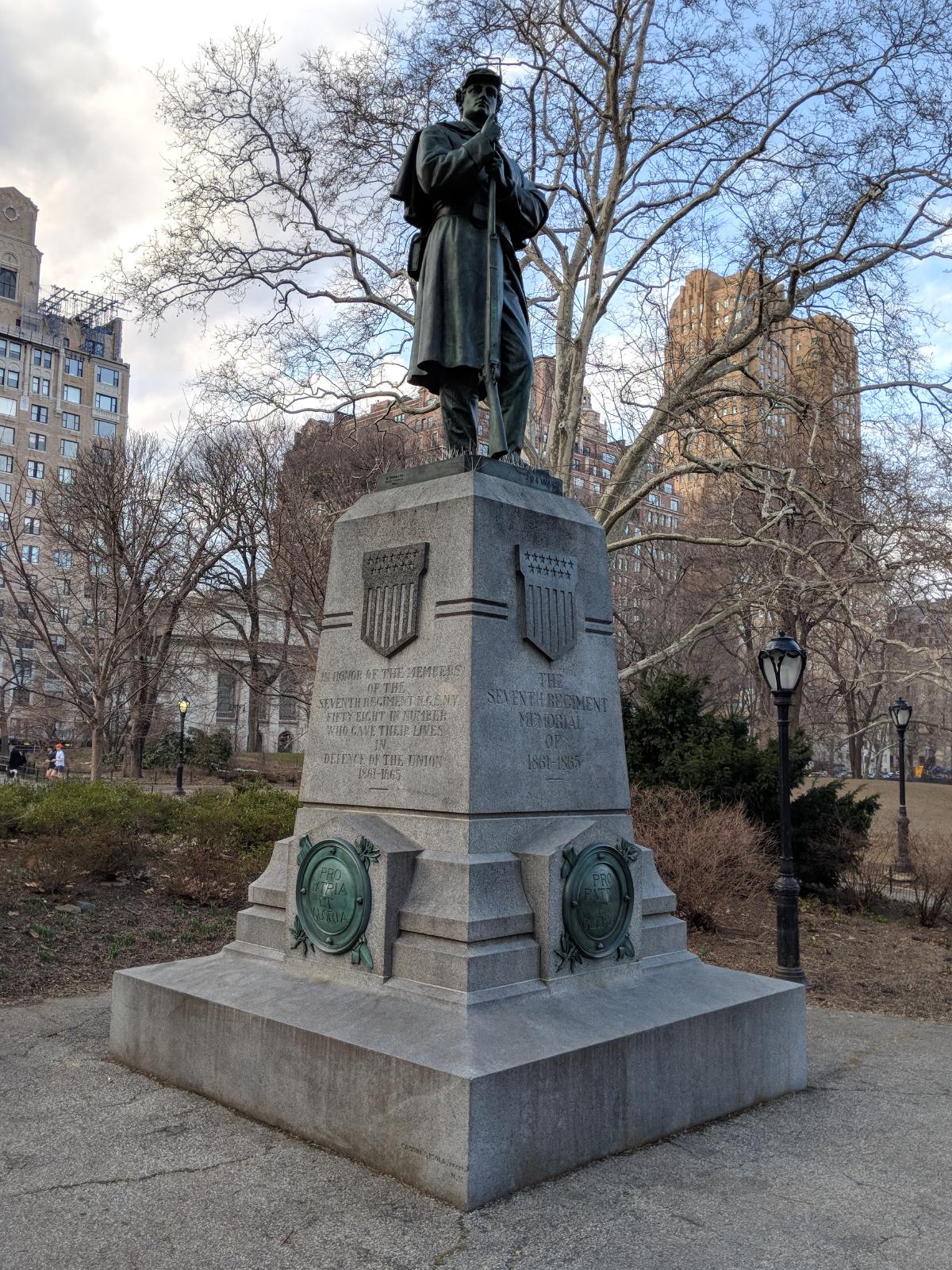 The 7th Regiment was redrafted into service in 1917, redesignated as the 107th Regiment and then set sail for Europe to fight in World War I. A memorial to its WWI service was dedicated in 1927, located on the eastern edge of Central Park. The statue was actually designed by Karl Illave, an art student and former soldier in the 107th.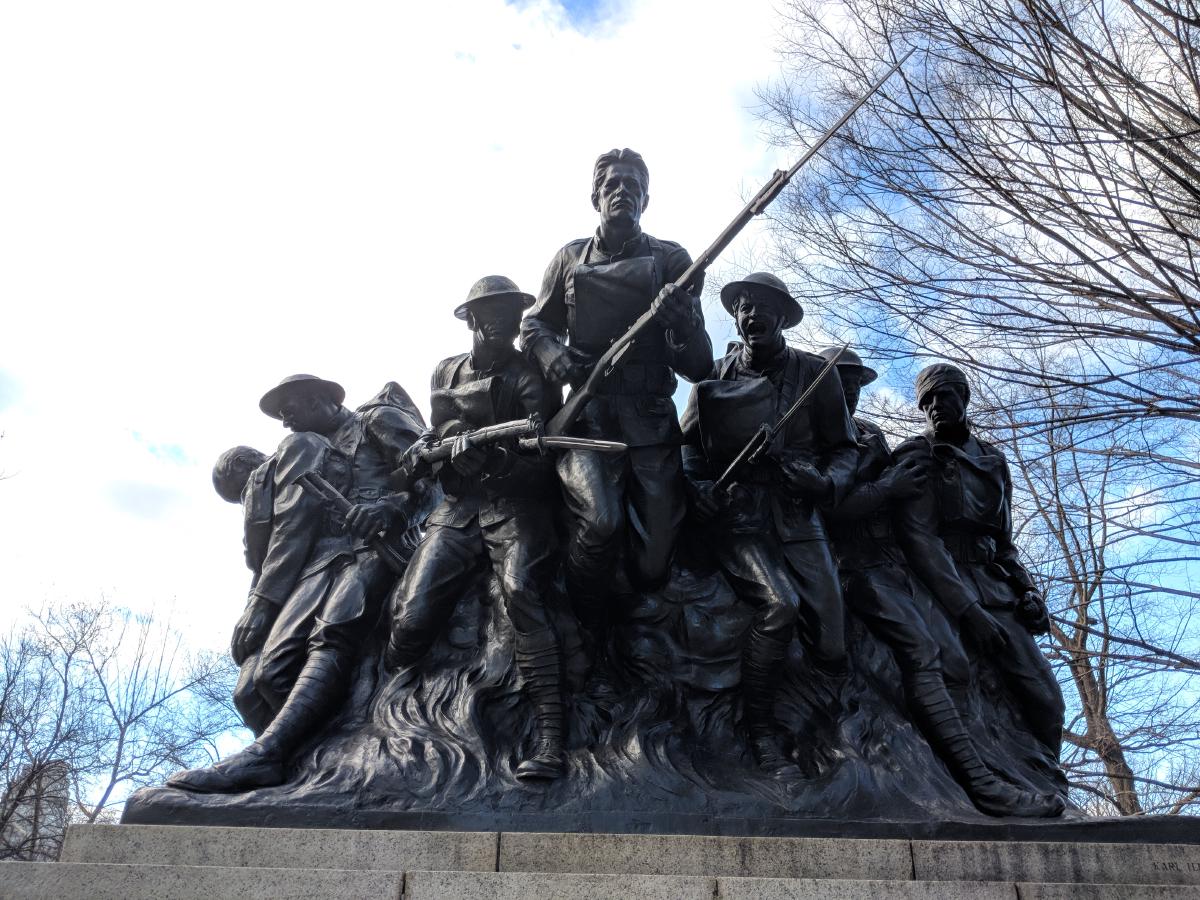 I stumbled upon these two memorials separately, not realizing at first that they book-ended Central Park and formed a connected arc in military history.
The Katyń Memorial
Exchange Place in Jersey City is known as Wall Street West due to the high concentration of financial companies located in the mostly commuter-focused transportation hub. So it was a bit of a surprise one morning when I came across this seemingly out of place statue, the Katyń Memorial. The statue, a soldier being stabbed in the back by a bayonet, commemorates the 1940 massacre of 20,000 Polish prisoners of war at the hands of Stalin's Soviet Army.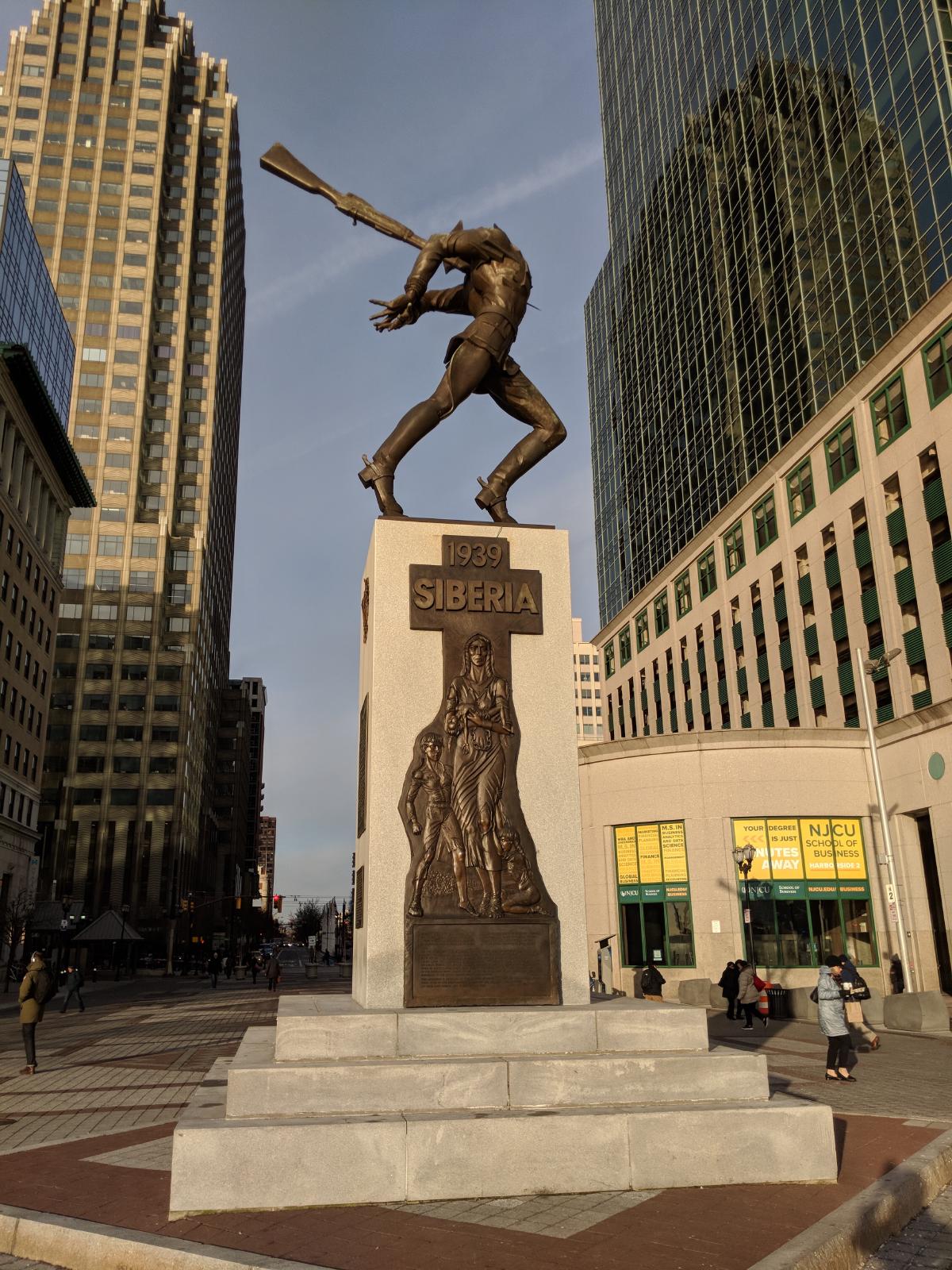 Exchange Place View of Manhattan
Later that same day, while returning back from Jersey late at night, I was struck by the sight of the Manhattan skyline from across the Hudson River. While I've seen some great views from the East River bridges (although not yet at night), the nighttime view from Exchange Place has probably been my favorite view of lower Manhattan so far.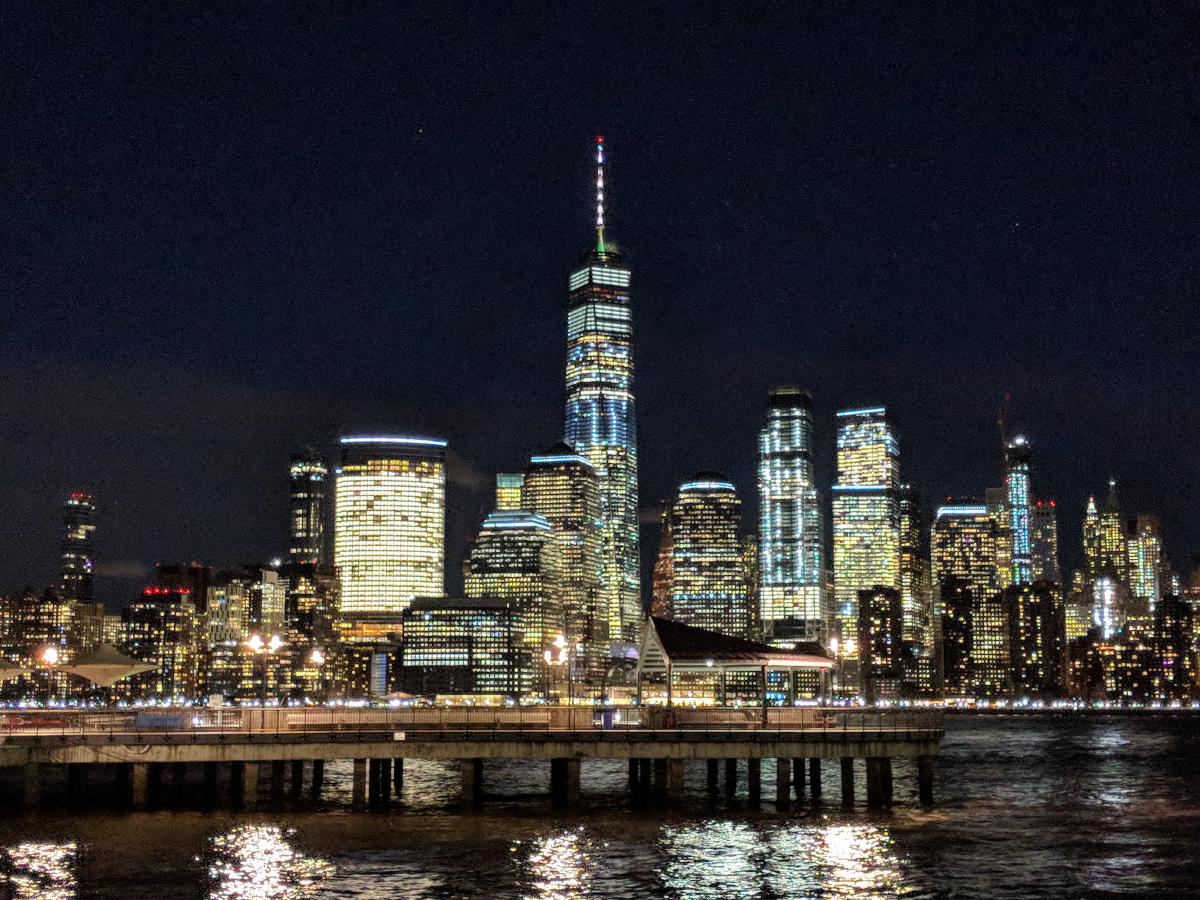 Manhattanhenge
Every spring and summer, Manhattan is treated to a beautiful celestial alignment when the sunset on the horizon can be seen from the city's streets. This phenomenon, known as Manhattanhenge, is certainly beautiful and a sight that, while common out in the "wild", makes you realize how uncommon seeing a sunset actually is when you live in the city. If you happen to be in the city one of the two times a year that it happens, I highly recommend trying to catch it. It's a beautiful choreography of crowds of people waiting until the street lights turn red so they can flock the temporarily empty streets for the best view of the setting sun.